Another show in the books, look for us back again at the Capitol Rotunda Gallery in '24!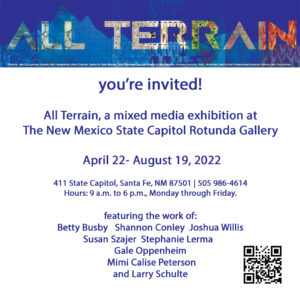 All Terrain Info-
Meet the Artists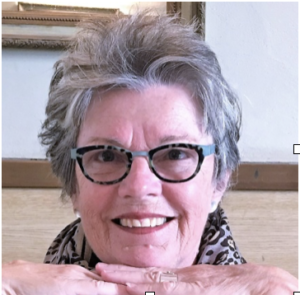 Susan Szajer has been an artist for over 40 years working with a combination of textiles and paint.  Pima cotton fabric, newspaper, newspaper yarn, and magazine paper combine with paint and stitch to create new pieces, most supported by armatures generously created by my husband.   In developing forms for this exhibit, I am influenced by the Native parfleche: envelope, cylindrical or box shaped vessels used to carry personal items.  The title of one series, CARRYING ON, references the purpose of the vessels, but  also implies the use of new materials in a new presentation of each form, with a little twist and a little tribute.
My father was an artist who taught me that art belonged in every person's life.  In my life, it fuels my creativity and engages my mind each day.
Website: studio18art@live.com 
Email: https://susanszajer.com/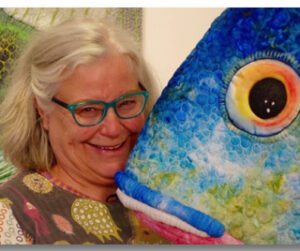 After graduating from the Rhode Island School of Design with a ceramics major,
Betty Busby founded a custom ceramic tile manufacturing firm in Los Angeles.
After nearly 20 years of running the firm, she sold the business in 1994 (it is still in operation to this day).
Upon relocating to New Mexico, she changed the focus of her artwork to fiber, taking it full time in 2004.
Her manufacturing background has lead to constant experimentation with new materials and techniques that fuel her work. 
The classic fractal structures of the sub microscopic world are a constant inspiration, as are natural processes, such as oxidation, replication and growth.
Email:           fbusby3@comcast.net
Website:       bbusbyarts.com
Instagram:    Bbusbyarts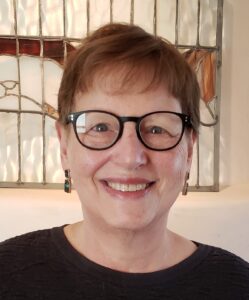 Gale Oppenheim is an artist who loves all things rust and canine.
Upon retiring as an executive from a giant HMO, she finds joy in
manipulating fiber and mixed media into soft organic forms
Email:goppie@sbcglobal.net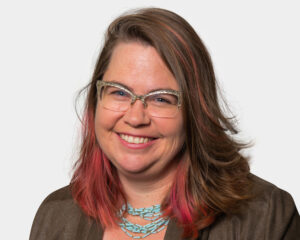 Shannon Conley is a fiber artist whose work is informed by her experience as a biologist and biochemist.  She runs a biomedical research lab at a large university and ideas from her pieces often arise from scientific research from her lab or others.  Sometimes the link is obvious, such as pieces depicting biological specimens or topics, while other times the links is more indirect.  She has been artistic her whole life, and has used art quilts and fiber art as her primary medium since 2009.  She's interested in exploring the connections between science and religion, and between the physical world and the way it's colored by our varying perspectives.  Much of her recent work has focused on interpreting the diversity and interconnectedness of various ecosystems using fabric and stitching.  She grew up in southern New Mexico, and retains a strong connection to the dry mountains and high desert, areas that frequently appear in her ecology and nature-inspired pieces.  Though her practice originates with traditional techniques familiar from quiltmaking, these approaches are expanded to include the use of non-traditional fibers and fiber-like materials, as well as other media/design approaches including painting, dyeing, screen printing, sculpting, and cutwork/openwork.
Email: La.emperatriz@gmail.com
Website: http://www.shannonconleyartquilts.com/
Instagram:  @shannon_m_conley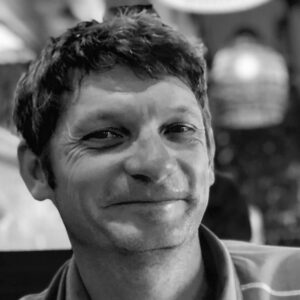 Joshua R. Willis is a mixed media artist integrating materials such as textiles, metal, paint and wood.  The resulting compositions explore properties of balance, harmony and diversity found in healthy landscapes. He received his Bachelor of Arts & Fine Arts from the University of New Mexico and studied on a merit based program at The Glasgow School of Art and Architecture in Scotland. Willis has shown extensively in his native home of New Mexico and has been exhibited nationally, including Americans for the Arts Data Base.  Willis art work has been included in a number of private and public collections.
Willis Statement
I am a multidisciplinary artist integrating materials such as textiles, metal, paint and wood. The resulting compositions explore properties of balance, harmony and diversity found in healthy landscapes. I use form and color to remain objective, which allows me to highlight the surface and material qualities of each piece and distance myself from a traditional interpretation of landscape painting. I strive to make my work feel that it has been handled. I place an emphasis on the art object being used, worn, tattered and handmade.
Email: grandewaters@gmail.com
Website: https://www.jwillisart.com/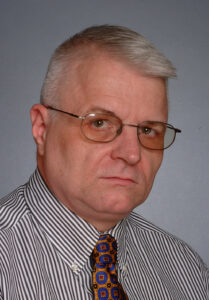 Larry Schulte was born in Kearney, Nebraska and raised on a farm.  After earning a BS in mathematics, he taught math and was a coach in Nebraska high schools for four years.  He then returned to college to study art.  He earned a BA in art and a Masters in painting from the University of Nebraska-Kearney, followed by a PhD in the philosophy of art education at the University of Kansas.  He moved to NYC in 1983 where he was an administrator and teacher at Parsons School of Design, followed by work stints at Shearson Lehman Hutton (international banking) and Kensico Properties (real estate management).  He and his spouse, Alan Zimmerman, moved to Albuquerque in 2015, where he maintains a studio and continues to create.  Much of his art work is about mathematical patterns and cycles of nature and life.  He has exhibited internationally, and is represented in museum and corporate collections
Home Phone:  505-639-5695
Cel Phone:  505-313-4177
Email: LSchulte@aol.com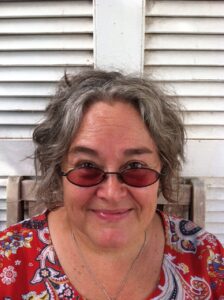 Stephanie Lerma received her teaching certification in piano pedagogue from L'Ecole Normale de Musique in Paris, France and holds degrees in English and Women's Studies from the University of New York Albany. Her work has been shown in universities and museums throughout the United states, Japan, China and South Korea and can be found in private and public collections around the world.
Email: slerma10101@yahoo.com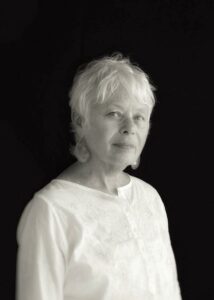 Artist's Statement (of sorts)
By Mimi Calise Peterson
I believe:
We artists are architects, magicians and pranksters.
We know the importance of a good solid foundation.
From there we can build out, up, around and even flat.
We work in dimensions 1, 2, 3, and possibly 4.
We build walls, break down walls, come up against walls and pass through walls.
Some of us may know exactly where we are going, get lost in the journey and are surprised at where we end up.
We use geometry, physics, color theory and psychology to play with your emotions.
We create space and moments in time.
We invite you into our spaces and push you away.
We create complexity from simplicity and simplicity from complexity.
We ask questions and answer questions.
Our inspirations are found externally and internally.
We can show you your reality and create new realities.
Our materials and their uses are infinite.
We can surprise and disappoint.
We can tell you a story, or let you create your own.
Email: mimiart45@yahoo.com 
click here for all the works in the show-
https://www.dropbox.com/sh/kkp5bqcrz3xt4w8/AAAGn2LWqPRAhkBLOW4p6sgba?dl=0